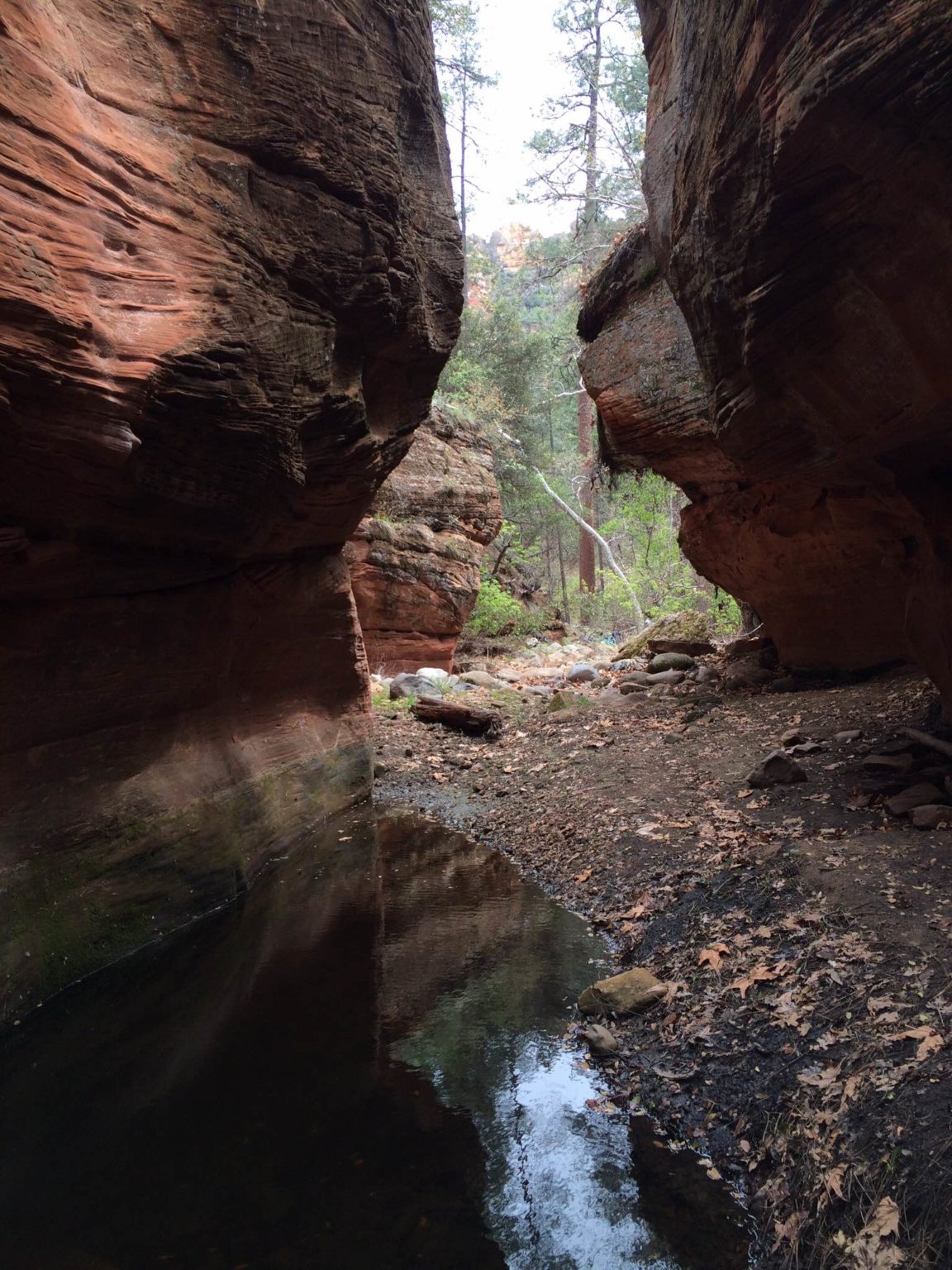 Secret Canyon Backpacking
Overview: The epitome of red rock splendor. Leave the crowds behind, explore slot canyons and set up a cozy cliff-side camp. You'll see wide-open sandstone vistas and trek through lush forests of oak, pine and ferns.
Secret Canyon Trail #121 – 5.5 miles
David Miller Trail – 0.9 miles
Bear Sign Trail – 3 miles
Forest Road  152 back to Secret Canyon – about a mile and a half
A Must-Do for Arizona Backpackers
Sedona, Arizona. Red Rock Country. It's a revered destination for those who want to experience stunning vistas and towering rock formations that spread out across a landscape of layered canyons, jagged mountains and sandstone cliffs.
These views draw crowds to Sedona in droves. There are Jeep tourists, helicopter riders, mountain bikers, day hikers and shoppers. When it comes to hitting the trail, there are plenty, and the vast majority of them are crowded.
That's why I was a bit skeptical when my wife brought up a backpacking trip to Secret Canyon. I assumed we'd be passing people on the trail almost constantly or camping within earshot of other hikers.
I was wrong.
The Secret Canyon Wilderness lies just a few miles outside of Sedona, but feels like it's a world away from the buzzing of ATVs and the whirr of helicopter blades.
Getting to the trailhead involves a hike down the forest roads if you don't have a high-clearance four-wheel-drive vehicle. We drove straight up to the trailhead thanks to our hiking partners' high-clearance SUV.
We chose a weekend in mid-April to hit the trail. The first couple miles features all the red rock glory Sedona is known for as you work your way into the canyon.
Entering the Wilderness
As soon as you head out of the trailhead parking lot, you enter the Sedona Secret Mountain Wilderness.
The trail into Secret Canyon begins by following a dry creek. In just over a half-mile, the HS Canyon Trail veers off to the left. We bypassed this side trail and kept heading out toward secret canyon.
Eventually, there's a trail juncture where the David Miller Trail breaks off to the right. Keep left to stay on Secret Canyon.
We found a great cliff side campsite about halfway down the Secret Canyon Trail. The area is well used with a fire ring and plenty of flat ground to pitch a tent.
We got to the spot with plenty of time left in the afternoon to set up camp and explore the canyon. One of my favorite aspects of this trip is that we gave ourselves plenty of time to hang out and wander.
We never did find some cliff dwellings I'd been reading about before the trip, but Secret Canyon doesn't give up it's secrets so easily. Besides, I'm okay with being one less set of footprints to step on sacred ground.
Day Two, Dave Miller and Bear Sign Trail
The next day we packed up and retraced our steps back to the junction of Secret Canyon and Dave Miller.
What the Dave Miller Trail lacks in distance it makes up for with killer views and a nice set of switchbacks that put Secret Mountain Wilderness on stunning display.
Once on the Bear Sign Trail, we headed through some dense forest and worked our way toward the Forest road. Although we did pass some decent camping spots along Bear Sign, the abundance of dead trees Made us a little wary about setting up under a tree that could let loose a massive branch or topple altogether onto a tent.
We moved on.
After making our way back to the forest road, we had a little huddle and decided to trek back to the Secret Canyon, Dave Miller junction to spend the second night. It added a few miles to the trip, but we loved the area and knew of a few places to get plenty of water for the night.
We camped the second night at the Secret Canyon, Dave Miller juncture and headed back out to the trailhead the next day.
General backpacking Info:
We were able to drive right up to the trailhead thanks to a friend's high-clearance 4X4. If you don't have one, you can park at the Devil's Bridge Trailhead on and walk the forest road about 3 miles to the Secret Canyon Trailhead.
Camping is free with no permit required in Secret Mountain Wilderness.
Don't count on water! We went a couple days after a heavy rain, so there was plenty of water. Always a good idea to get in touch with the ranger station before you set out.
Some parts of the trail have very little or no shade, so protect yourself from the sun.
Getting there:
Drive 27 miles south from Flagstaff to Sedona on US 89A. Continue through Sedona to Dry Creek Road (152C) at the west end of town. Turn right on Dry Creek Road and drive for two miles to Forest Road 152. This road is rough; high clearance vehicles recommended. It is not recommended during wet weather.
About 3 miles up this road on the left (west) side of the road is a two-track road. Turn onto this road. There is a trailhead sign at the junction of these two roads. The parking area is approximately 200 feet behind the sign.